They work very well at conferences, congresses, or seminars, among others. For the event organizer, the choice of the badge is crucial. Each type is very different, that is why you should choose the best one for your event.
Usually, attendees receive badges at event check-in. It is the organizer that decides when they need to be ready. It can be done before the event, in which case badges are produced after registration of attendees has been closed, or they can be printed at the reception desk.
This decision has an impact on available printing methods. This article discusses the available types of event badges, including some details about the costs. You will be the one to decide which method is the best for your event.


Plastic-coated paper badges
This is the most popular type of conference badges. They are made of heavy stock paper weighing 300g/m2 or more, and then coated with laminate or UV varnish. Unfortunately, technical limitations make it impossible to print such heavy badges at the event. Therefore, using this type of ID badges requires preparing all the copies before the event actually starts.
Optionally, you can pre-print additional 10-20% badges as blanks and fill in personal data of attendees with a different method. Then, you can use labels to print out the collected data (see Self-adhesive labels). Alternatively, you can use an appropriate model of a laser or ink printer to print attendee data, should you choose not to use laminate/UV varnish. However, it is quite complicated to calibrate printing parameters in office printers, which requires very light paper (300g/m2 is the absolute maximum but many printers do not support anything higher than 240-250g/m2).
Advantages:
High quality and attractive design,
Low price (When printing a few hundred copies, the cost of one badge of the highest quality should not exceed $2).
Disadvantages:
With hundreds of attendees, the use of such badges makes it necessary to divide the check-in area in alphabetical order (according to the first letters of surnames) or according to different categories.
It is quite time consuming to find a badge and it will never be faster than printing it out at the reception desk.
Printing out during the event: only attendee personal data printed with office printers, label printers, or handwritten with a marker.
Plastic cards used as event badges
Plastic event badges must be made with printers that apply prints using special carbon paper. Plastic cards are quite commonly used in offices as badges for employees.
Advantages:
Plastic cards are very durable and look neat and professional,
Can offer additional functions (e.g. RFID).
Disadvantages:
They are small (the size of a credit card) so it is impossible to present attendee details in a legible way,
The cost of plastic card printers (such as Zebra or Evolis) is somewhere between net $960 - $6600 a piece, which is a relatively high price, especially assuming that it will take more than one printer to handle hundreds of attendees,
In this price range, printing conference badges with plastic card printers requires piercing the card after it has been printed, as perforating them beforehand creates a risk of damaging the print head. Piercing plastic cards requires a special perforating press and consumes a lot of valuable time.
If you decide to use plastic cards, the most optimal solution, considering the cost and time required to handle each individual attendee, may turn out to be printing all ID badges before the event. Single copies for unexpected guests or people who lost their cards can be printed during the event.
Printing out during the event: whole cards or personal data only if cards have already been printed initially with a graphic design.
Conference badges on thermal transfer ribbons
In 2011, we used thermal transfer printers during the European Culture Congress. Such printers use rolls of thermal transfer ribbon and apply data by melting carbon paper coating, making the dye present on its surface adhere to the surface of the ribbon. The ribbon should be printed with the background beforehand. The printer will only apply attendee details (and the QR code) in black.
Advantages:
Such printers (similarly to plastic card printers) are relatively small,
They are cheaper than plastic card printers (e.g. a Zebra printer costs approx. net $430 - $1200).
Disadvantages:
The low weight of ribbons (approx. 220g/m2) requires a plastic holder to reinforce conference badges,
The cost of printing will be quite high if your event is not intended for a few thousand people (at the ECC, CONREGO handled nearly 20,000 attendees).
Printing out during the event: only attendee details.
Paper event badges based on passes
The method designed by our team will reduce your badge costs to the cost of purchasing three basic products: a ream of paper, a standard ink-jet, and plastic sleeves capable of holding A6 badges.
In CONREGO software, you can create personalized conference badges and other documents as PDF. Use a template in A4 size and prepare your own badge design that can be folded into A6 size (105x148mm). The front of the badge should include: logotypes of the organizer and/or the event, name, surname, the name of attendee's organization, category of participation, and a QR code that identifies the attendee in the registration system. With the use of this method, the reverse side of a badge can contain a situational map and programme of the event (a general one or a personalized agenda for each attendee). It is very easy to prepare such a design.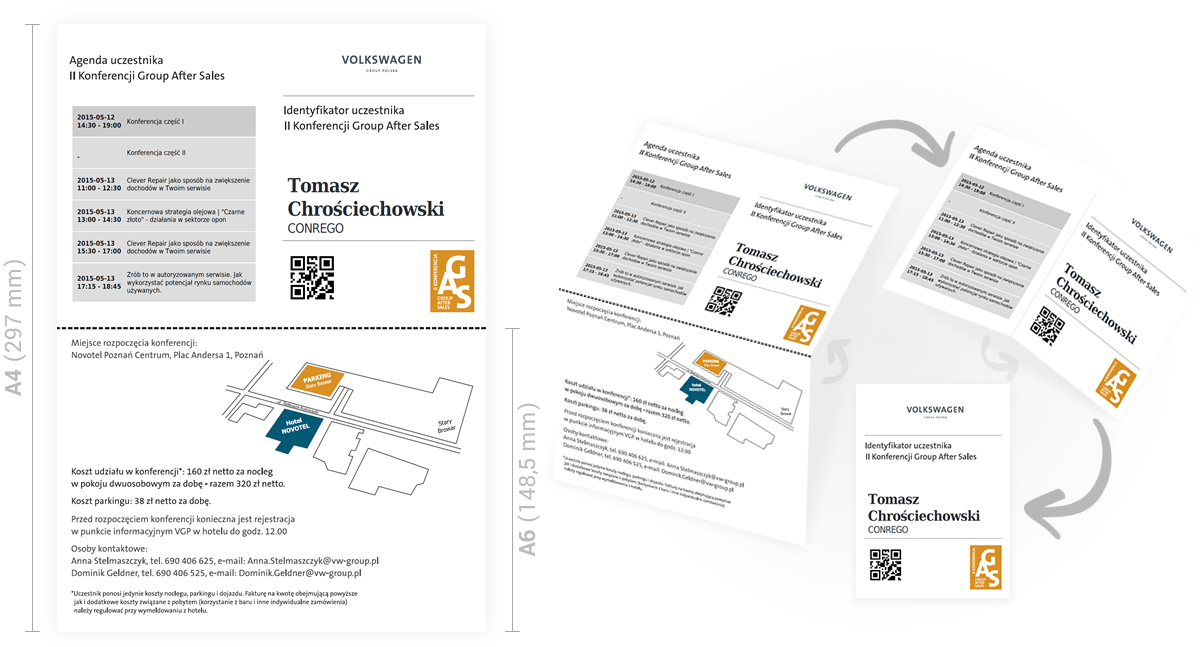 Fig. CONREGO registration system has a built-in feature that allows you to automatically generate and attach passes designed and personalized in this manner to the confirmation email, which is sent to each attendee.


Advantages:
Office printers are very cheap to purchase and maintain,
The printing area is much larger than in any other type of badge, it is also possible to print on both sides of the badge.
Disadvantages:
Office printers are quite large so it may be problematic to arrange a number of machines at the reception areas,
The low paper weight (90g/m²) requires plastic holders to reinforce the badges even if they are folded twice.
Printing out during the event: Entire cards or attendee details only if A4 already have preprinted badge background.
Self-adhesive labels
This solution was first applied in 2016. It consists in using any of the available badge printing methods and printing attendee details onto self-adhesive labels of various formats, which can be easily placed on a well-designed event badge. Self-adhesive labels are printed with thermal printers, manufactured e.g. by Brother. The entire process is carried out automatically, provided that your event management platform offers such features.
Advantages:
Label printers are small,
Label printers are very cheap to purchase and sustain (the cost is approx. net $100),
The majority of printer models are capable of printing labels in the approximate size of 60x100mm, which is enough to fit a QR code and attendee details written in big, legible letters,
Labels can be applied to badges made using any of the available methods.
Disadvantages:
If labels do not have proper perforation, it will be difficult to unglue them, thus prolonging the time it takes to handle each attendee.
Printing out during the event: only attendee details.
Watch a short video presenting label printing at event check-in:
A summary of methods used to print ID badges
This article ends with a table presenting all the media and printing methods that have been discussed in the article.
| Type of badge | Stiffness | Plastic holder | Pre-printing the background before the event | The net cost of manufacturing 1,000 copies, including consumables | The net cost of a printer |
| --- | --- | --- | --- | --- | --- |
| Paper, not coated | Average | Recommended | Required | 330 - 500 $ | 160 - 230 $ |
| Paper, plastic-coated | High | Unnecessary | Required | 330 - 500 $ | Not possible to use a printer |
| Plastic cards | Very high | Unnecessary | Optional | 500 - 830 $ | 960 - 6600 $ |
| Thermal transfer ribbons | Low | Required | Required | 500 - 660 $ | 430 - 1260 $ |
| A4/A6 passes | Very low | Required | Optional | 100 - 160 $ | 160 - 230 $ |
| Self-adhesive labels | Depends on ID badge | Depends on ID badge | Required | The cost of manufacturing ID badges + 100 $ | 80 - 160 $ |
Do you now know which kind of conference badges to choose?
Tomasz Chrościechowski