The costs can and should be reduced. In this entry, I will introduce you to the method that we use during various conferences and congresses and which allows us to reduce costs of preparing badges.
For most of the events we handled, badges were printed before the events. Printing before the actual event and no way of printing at the event is a situation with several important drawbacks:
you can't deliver a copy of the badge in case the original is lost or destroyed by the attendee,
you can't print the badge after attendee details change,
before the staff hand out the badge to the attendee, they must find it in a heap of hundreds of other badges - it takes a lot of precious time.
However, in some cases, printing badges at the event is not so much a matter of convenience but a requirement resulting from the nature of the event. For example, the event is open for outside guests or you are planning on-site registration.
Since CONREGO founding in 2010, we've seen and tried almost all badge printing techniques, but most of them generate big expenses:
Printing plastic badges at the reception desk is a costly solution. It requires special printers and consumables, such as cards and carbon paper. Furthermore, a plastic card is quite small (it is the size of a credit card), which makes reading attendee's data quite difficult. It will be equally difficult to fit anything more than just the absolutely necessary info on such a badge.
As far as printing paper badges is concerned, it can be done using Zebra thermal transfer printers, for example. However, it requires special rolls of perforated labels. Each single roll contains 500 labels, and you will usually be required to order a minimum of four rolls. The cost of this solution will be irrationally high if you are planning an event with 300 people attending. And that is not all because perforated labels are made of very light paper, which requires taking into account an additional cost of plastic holders.
However, we have developed an economical method that consists in using a pass generated by our Event Badge Generator module as a PDF file. The A4 size pass can be folded to A5 format and then to A6 format. A segment 105 x 148 mm is big enough to provide space for the design and logotypes of the organizer and/or the event, as well as the name and surname of the attendee, and the name of their organization, the category of participation, and their QR code on just the front of the badge. Imagine that it is equally simple to print information on the reverse – for example, is it surely recommended to provide a map of the venue and the programme of your event (a general one or a personalized agenda for each attendee). It is incredibly easy to prepare such a design in CONREGO!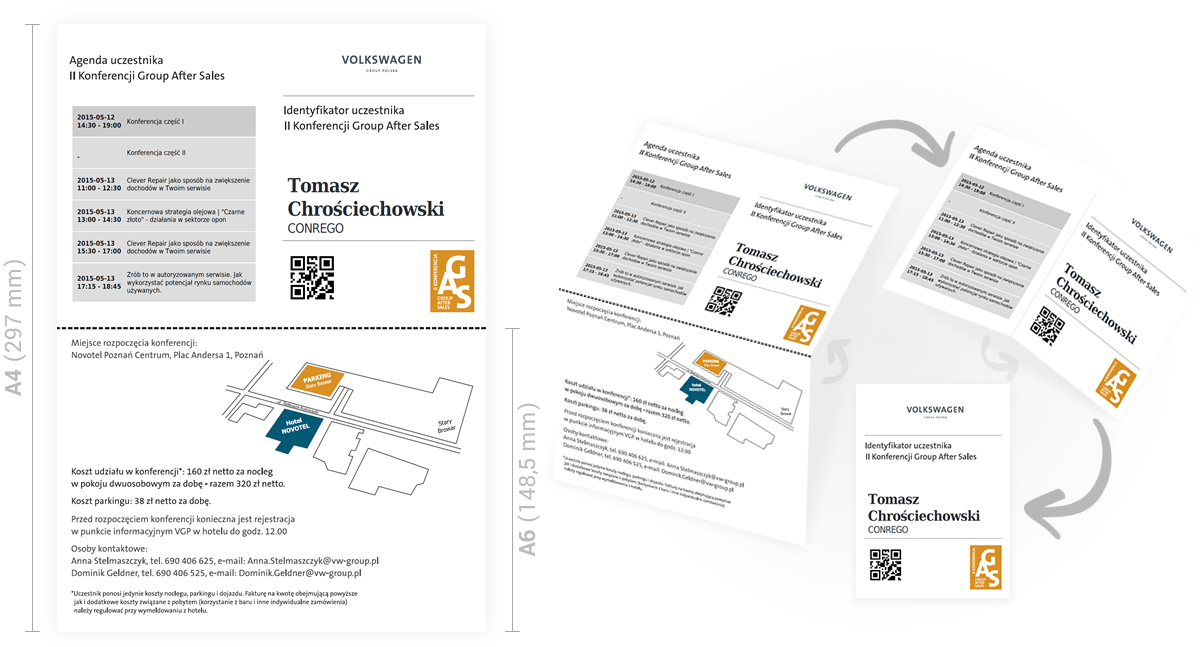 Fig. CONREGO event registration software comes with a built-in functionality that allows you to automatically generate and attach a pass that has been designed and personalized to an email message confirming registration, which is sent to each attendee.


Each attendee that receives a PDF file can fold their A4 sheet to A6 size, following appropriate markings, thus producing a ready-to-use badge that includes all the necessary information regarding the event. You will have to send such pre-prepared passes to attendees early enough, and notify them that they must bring them to the event. As a result, at least 60% of guests will say hello to your staff, while holding a badge in their hands. Considering the other 40%, equip reception desks with ordinary laser printers and make sure that the registration software you use can print badges during check-in.
This way, the role of the check-in staff will boil down to scanning QR codes (for the purpose of attendee check-in) and handing out plastic holders with lanyards. Don't forget to ask them to return holders before exit - you can help preserve the environment and save money at the same time!
Do you know of any cheaper and at the same time faster way to print badges at the event?
Tomasz Chrościechowski