Today, I will show you how a classic conference can work in a virtual environment.
Conference
By 'conference', I mean a rather large event including a couple of simultaneous sessions. Since seats in session rooms are limited, attendees have to declare in which sessions they want to participate on registration. In addition, there is the plenary session, which is available to all and is the only session available at the time. Another possible element of a conference are workshops. They are usually smaller and more focused on engaging attendees and interacting with them.
Service
To sum up, we need three types of rooms:
Plenary session - the biggest room, it needs to house all the attendees of your event. It's best to use a stream from a recording studio, which will give your conference a very professional look, or simply play a pre-recorded video. The first option allows for limited interaction with attendees but the second one is safer since you know precisely what the video looks like before the conference. This room can also be used for the keynote, which should be pre-recorded or streamed from a recording studio as well.
Sessions - the number and capacity of these rooms depends on your conference agenda. The number of rooms is the number of sessions you want to run simultaneously. As for their capacity, the combined capacity of your session rooms should be more than the total number of attendees. You shouldn't assume that attendees' interest will be equally divided among the sessions.
Workshops - the smallest of the three types. In this case, the speaker should interact with attendees live. This can be done via chat or by organizing a meeting, like in Zoom. If all attendees are to stream audio-video feed continuously, their number should not exceed 10. This rule-of-thumb limit results from the difficulty in maintaining order and the required network throughput with a larger number of attendees. A good middle ground solution is allowing attendees to enable audio-video streams one by one, so they can actively participate in the discussion or ask their question.
The issue that remains is controlling which attendee should have access to which rooms and at what times should a room be available at all. Again, CONREGO Live's conference interface will help you: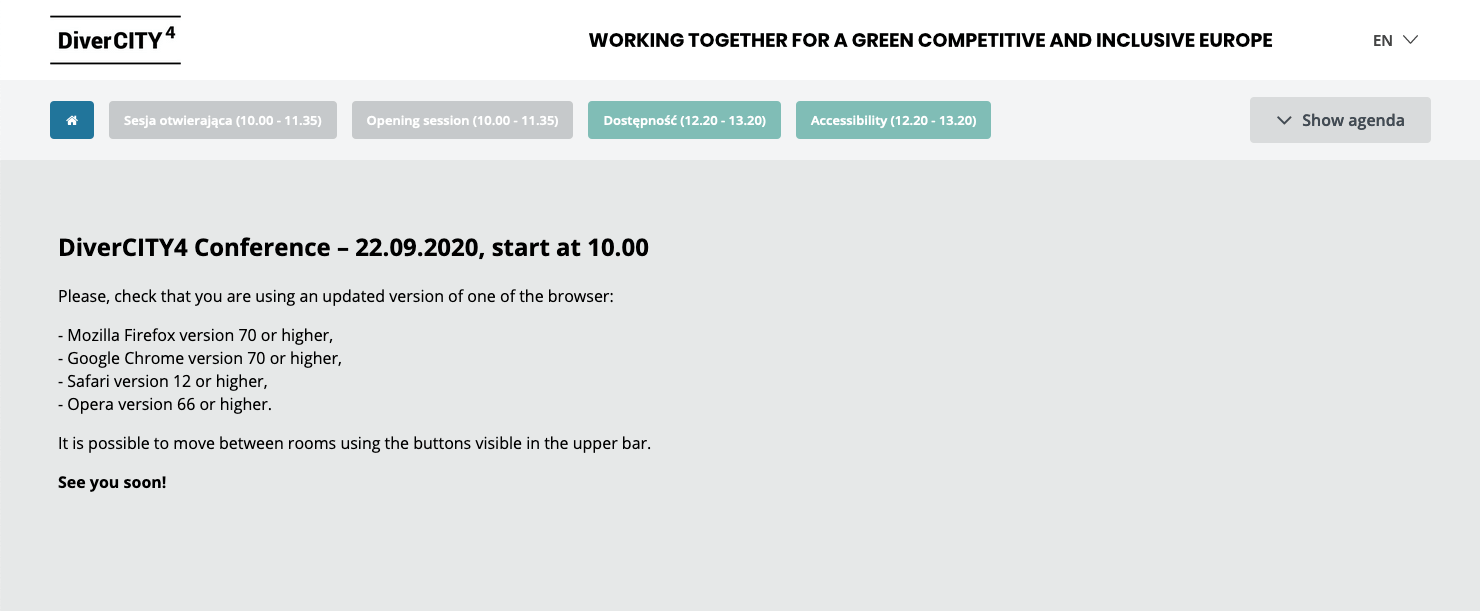 Our representative will make sure that only currently active (according to the agenda) rooms are visible and that attendees can only enter sessions they registered for. We mark the rooms which are active and our software shows them to attendees who selected them in the registration process. We don't automate this function due to possible delays in the conference. With our solution, conferences can function as virtual events and retain their characteristics.
Lukasz Krawczuk