Hi! Welcome to the new series of articles on our blog. We have talked about virtual events already but this time, we will focus on how CONREGO Live platform can help you execute your event. For instance, today, we assume you want to organize a trade show. I'll show you how such an event can look from the attendee's perspective and what you can offer the exhibitors.
Trade Shows
Regular trade shows are a very simple idea. The venue houses booths and larger areas for exhibitors who present their products and services, and talk with prospective customers, encouraging them to make a purchase. Apart from booths, the organizer sometimes sets up a main stage (or several stages) and presents scheduled content. The main stage is most often used for awards, industry talks, and important exhibitor presentations, like major product teasers or launches.
This gives us two types of 'rooms':
Stage - scheduled, big audience.
Booth - spontaneous interactions, small audience, dialogue.
CONREGO Live allows you to give the attendees access to many rooms in the conference interface: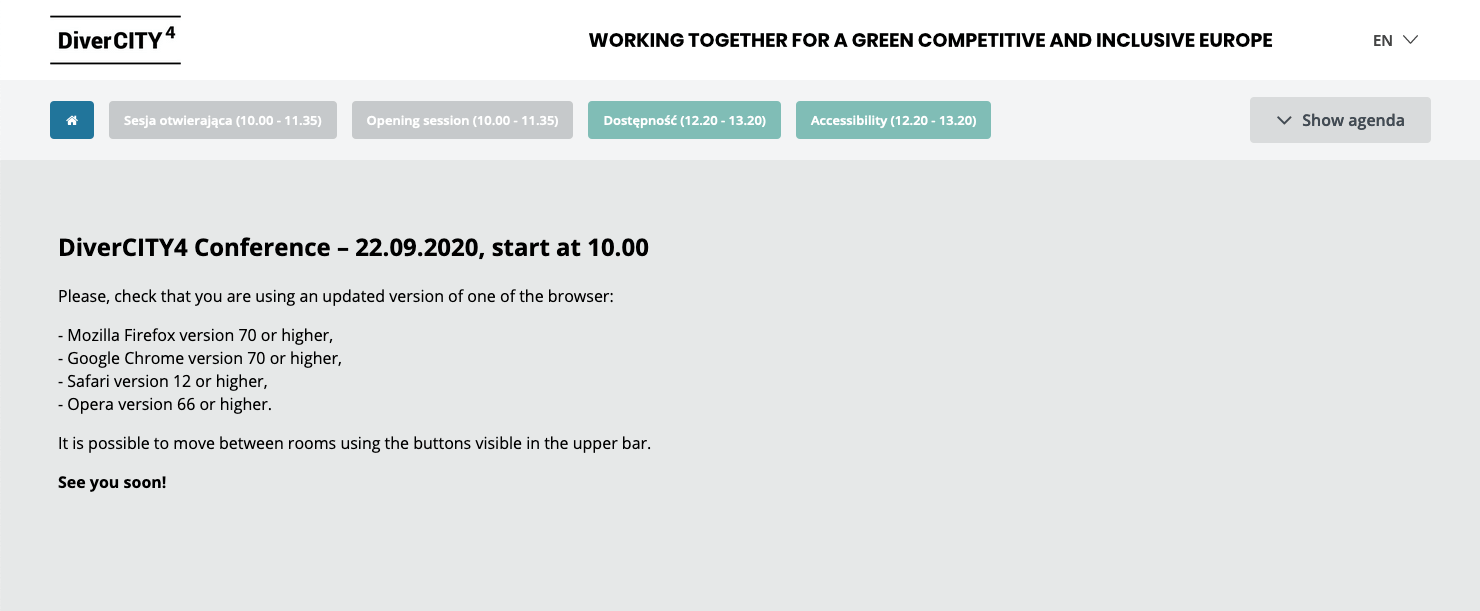 The attendee can freely change rooms, browse the exhibitors' offer, or simply watch the main stage.
Booths
As for booths, we have a solution, which allows the attendee to view the general presentation in the 'main area' of the booth, and if they want, join a one-on-one meeting with a representative. The way this works is: the attendee enters the booth and sees a looped recording or a stream made by the exhibitor. When they say they're interested in the offer (preferably via chat because voice communication with several attendees could cause chaos), the host moves them to a free sub-room with a representative where they can enable the audio-video connection and discuss the details of the offer.
Such a booth may require more staff, e.g. 6 (one host and 5 representatives), but it is the only way to guarantee effective communication. In a virtual environment, we cannot rely on natural conversation mechanisms, which help us speak in turns even in bigger groups. This is why we need to create an environment, where we don't need these mechanisms. A one-on-one conversation is such an environment.
What's more, this structure reflects the rule that you should present the main idea first, and then give more details to those who want to know more.
Is this a perfect solution?
Of course not. Exhibitors would like more space to present their products and projects. Attendees would prefer to be surrounded by exciting stuff, experience the atmosphere, and talk to other attendees. However, since we're limited by the environment, it is the optimal solution.
Soon, we will discuss the use of CONREGO Live platform to organize another type of virtual event.
Lukasz Krawczuk