1. Take aim
First, you need to determine what product or service you want to promote. Find the advantages and benefits that come with participating in the event and think how to communicate them in your brand building strategy.
2. Specify the target group
Every group is different - lawyers, doctors, academics… Every group speaks its own language, has its own needs and priorities. You first need to know your group and then win their attention. If you're not a part of it, you could use a representative, who will help you understand the group and communicate with it better.
3. Communicate benefits
How to draw attention? Don't talk about features but instead, focus on real benefits. It's the benefits that stir imagination and that's of utmost importance here. What will your attendees gain by participating in your event? The most common benefit is knowledge. Is it a personal data protection training? Is it a conference on new technology development? Think what is the most valuable to your attendees and communicate that they will gain it by participating in your event.
4. Create emotions
Aside from knowledge; feelings, impressions, and emotion are also important. A unique experience that you can come back to in memories. You're now wondering just how exciting can a lecture on personal data protection be. Even if it's not, a conversation with experts by the coffee stand is pretty likely to be remembered. Emotions can be built on many different levels and with many different tools. On business conferences, such tools are development strategy teasers accompanied by sound effects and flashy lighting, like a concert.
5. Brand promise
Now is the time for you to develop a short description that will be your promise. It's important that you communicate it on every occasion and through all promotion channels. Consistency is key here. Every brand is based on it.
6. Visuals
The next step is to take care about the visuals. Strong brand identity requires all the visuals, not just the logo, to be consistent. What to pay attention to?
Logo
Your logo will be visible not only on a computer screen but possibly also on paper, pens, cups, or flash drives. This is why they should be designed in such way that they can easily be scaled to various sizes. I believe that an ideal logo should be perfectly legible and recognizable after scaling down to 5x5mm and monochromatic printing.
Color scheme
The color palette you will use to build your brand is very important. Keep in mind, though, that it's not limited to the colors of your logo - you also need to determine which colors you will use in graphics of various promotional materials (the conference website, leaflets, business cards, flags, stands, roll-ups, etc).
Typography
Fonts are not only used to communicate content but also a brand. Select the set of fonts to be used to remain consistent with the logo and colors for every medium.
Graphics of promotional materials
Promotional materials listed above require a consistent content layout as much as they require a logo, colors, and fonts. It's worth spending some time on because the layouts of some media (e.g. badges, leaflets, tickets, etc.) will be used as templates in the future, when you organize consecutive editions of your event.
Interior design
Interior design encompasses everything at your event: reception desk descriptions, agenda panels, room descriptions, catering space, tiles showcasing the upcoming session. Consistency on this level is a channel of brand communication as well. If you make the attendee who knows your brand from the internet automatically associate it with their surroundings at the event, that's success.
7. Case study
A great example of a well designed event brand is the annual ABSL conference:
ID badge and entry pass design,
pictures of the event.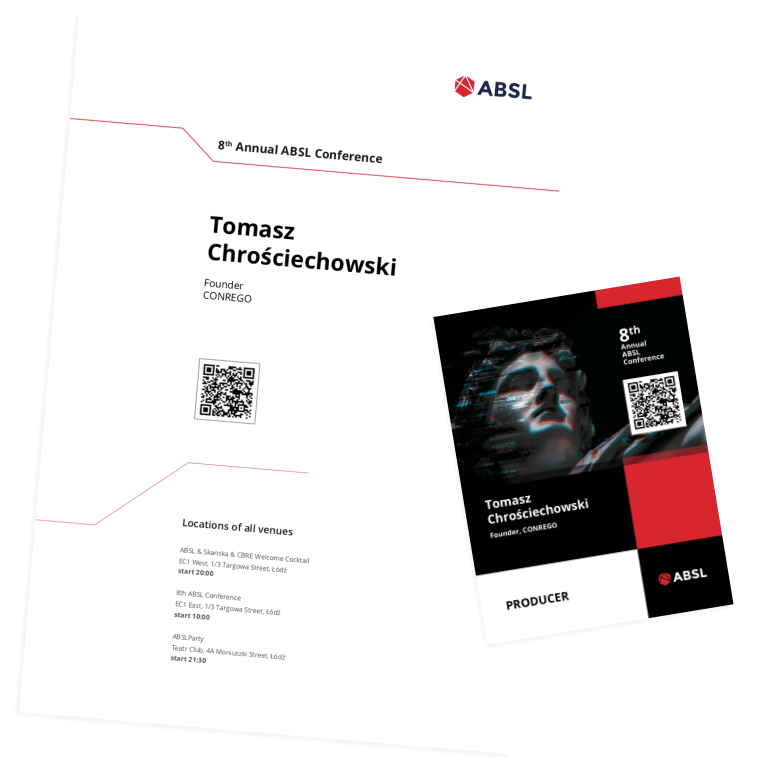 Good luck and be persistent building the brand of your event. If you have any questions, don't hesitate and mail me!
Łukasz Krawczuk